From the National Blog
December 17th is going to be a phenomenal day for webinars here at Discovery Education.  We'll be closing the calendar year off with two holiday treats, one for you and one for your students.  In the morning, the Science Channel's Michio Kaku will do a special webinar for you to share with students in your district, and in the evening we will be connecting you with digital storytelling guru extraordinaire, Jason Ohler!
Michio Kaku  is a best selling author, host of two national weekly science radio programs, and frequent guest on television shows including Larry King, 60 Minutes, 20/20 and many more.  He has hosted numerous series for the Science Channel and is currently increasing people's Science IQ every Sunday night in the series "SciQ".  If you've ever seen Michio speak before, you know that he has a brilliant ability to break down incredibly complex theories and explain them in ways that anybody can understand. On on December 17th, he'll be sharing his ideas directly with you and your students!  This is your chance to connect your students to one of the most dynamic scientists on the planet, and even have him address their questions directly!  It's an opportunity you won't want to miss.
Register for Discovery Connect with Michio Kaku, host of Science Channel's SciQ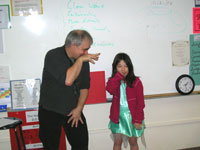 But that's just the morning!  In the evening, we have a holiday treat just for you.  The featured speaker for December's EdTechConnect is none other than Jason Ohler.   The author of Digital Storytelling in the Classroom: New Media Pathways to Literacy, Learning and Creativity Jason is one of the nation's premier digital storytellers and an incredibly popular presenter.  By combining passion, humor and intelligence with 25 years worth of experience, his presentations do more than simply inspire and engage you, they demonstrate practical ideas for transforming your classroom.  Register today and join educators from around the world in learning from this dynamic educator.
Register for EdTechConnect with Jason Ohler, Wed. December 17th, 7pm EDT