» Best Teacher Edublog 2008 The Edublog Awards
It is with pleasure that I encourage you to to head over to the Edublog Awards and place a vote for DEN member Vicki Davis' blog "The Cool Cat Teacher" in the category of Best Teacher Edublog 2008. This list is massive and it randomizes for each person who clicks the link. Scan the list and look for The Cool Cat Teacher. Also share this list with your colleagues that might not read blogs. It's a great list to learn from.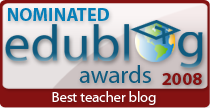 Technorati Tags: awards, edublogs, blogs, education
This is crossposted from AKA Riptide Furse.