DE treated LC members to the BLC 2010 Conference.
The BLC Conference is hotsed by November Learning. Mitch Resnick opened the conference with a very simple message:
Students should be creating on the web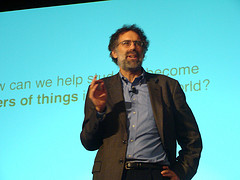 I couldn't agree more and not just creating for themselves and their classmates, but for the world. Using Scratch as his basis for his talk, Resnick took us on a journey of how students are using Scratch to create, share, remix, and collaborate on creating some pretty cool projects, most of them outside of school.