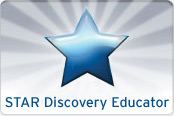 Please welcome these new DEN STARs:
Jessica Dietrich, AZ
John Christopher, CO
Sherrie Davidson, CO
Brent Olyowski, CO
Corinna Boldi, CT
Joan Bannon, FL
Susan Buys, FL
Josh VandeBerg, FL
Maria Zelaya, FL
Paula Schmidt, HI
Courtney Pierce, ME
Patricia McGonagle, MA
Amanda Barrett, MI
Gabriel Barbato, NY
Krista Brancato, NY
Marsha Erskine, NC
Rebecca Worlds, NC
Ruth Still, PA
Tammie Wiest, PA
Jackie Wilson, Saskatchewan
Kathy Weishuhn, SC
Cheryl Giles, TN
Teresa Webb, TN
Samantha Melvin, TX
Silvia Striegler, TX
Kathleen Zeigler, TX
We're thrilled to have you in the DEN community!
Already a STAR? Maintain Your STAR Status for 2010-2011!
As the new school year begins, make sure you keep your STAR status. We've added a couple other options to help you demonstrate how you actively contribute to the community.
There are several ways to stay active:
Report at least two events from this past school year
Report one event and upload a resource to the Educator Resources library on the DEN site
Report one event and tell us one other way you have shared the power of Discovery with your peers (e.g., newsletter, podcast, etc.)
Not yet a STAR? What are you waiting on?
Login using your DE username and password
Click on "Become a STAR Discovery Educator"