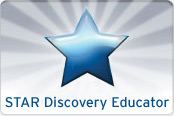 Please welcome these new DEN STARs:
JanNeely Blackmon, SC
Kathy Cassidy, SK Canada
Lois Chamberlain, NC
Kathleen Chesmel, NJ
Tracy Cropsey, MI
Kim Fielder, FL
Julie Gathright, OK
Jason Huber, MI
Angie Johnson, MI
Meghan Johnson, SC
Jennifer Jordan, FL
Libby Lawrie, IN
Sarah Minnick, PA
Kayla Schumacher, WI
Cynthia Smailes-Rybak, SC
Sean Williams, CA
Cecilia Zavestoski, CA
We're thrilled to have you in the DEN community!
Already a STAR? Maintain Your STAR Status for 2010-2011!
As the new school year begins, make sure you keep your STAR status. We've added a couple other options to help you demonstrate how you actively contribute to the community.There are several ways to stay active:
Report at least two events from this past school year
Report one event and upload a resource to the Educator Resources library on the DEN site
Report one event and tell us one other way you have shared the power of Discovery with your peers (e.g., newsletter, podcast, etc.)
Not yet a STAR? What are you waiting on?
Login using your DE username and password
Click on "Become a STAR Discovery Educator"