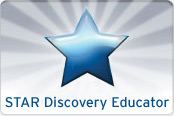 Please welcome these new DEN STARs:

Kari Baransky, CT
Andrea Bills, TX
Jeffrey Bird, TN
Alissa Black. AZ
Nancy Brennan, FL
Tamara Campana, FL
Carol Campbell, TX
Beth Cavallaro, FL
Erma Costner, OK
Marty Creech, NC
Anna Czekaj, NC
Denise De Clair, FL
Valerie Favel, Saskatchewan
Sarah Fischer, SC
Patricia Fuentes, FL
Pamela Giles, FL
Robin Gowen, TX
Ann Gregson, NC
Karla Jaenicke, FL
Carol Kennedy, OR
Bernadette Keshane, Saskatchewan
Edith Kincaid, FL
Stephanie LoMeo, FL
Timothy Melaragni, MI
Jamie Meyers, AK
Daniel Miller, FL
Ashley Miller, IN
Deena Paules, Saskatchewan
Gordon Pepple, Saskatchewan
Nancy Pierce, FL
Michael Renfroe, VA
Leslee Richardson, FL
Gina Rolkowski, FL
Juli Sian, MI
Georgia Sigvaldason, Manitoba
Patricia St. Denis, Saskatchewan
Mary Wallace, PA
Beth Yoder, IN
We're thrilled to have you in the DEN community!
Already a STAR? Maintain Your STAR Status for 2011-2012!
Make sure you keep your STAR status. We've added a couple other options to help you demonstrate how you actively contribute to the community.There are several ways to stay active:
Report at least two events from this past school year
Report one event and upload a resource to the Educator Resources library on the DEN site
Report one event and tell us one other way you have shared the power of Discovery with your peers (e.g., newsletter, podcast, etc.)
Not yet a STAR? What are you waiting on?
Login using your DE username and password
Click on "Become a STAR Discovery Educator"