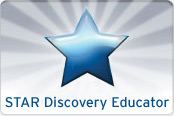 Please welcome these new DEN STARs:

Aaron Adams, TX
Carolyn Carter, FL
Stephanie Chambers, GA
Margaret Cody, FL
Ashley Cook, CO
Katie Cortez, WI
Mark Derison, NY
Stephanie Digirolamo, IL
Jini Errichetti, NJ
Angelique Fairbrother, IL
Lisa Giddings-Massey, FL
Margaret Gonzales, FL
Kristina Harvey, FL
Leanne Hibbert, Manitoba
Susan Jeffries, AR
Stacey Jenkins, FL
Julie Lachance, NC
Alan Lutz, CA
Michelle McBride, FL
Linda Mello-Teta, NY
Diane Milliken, AZ
Jennifer Morrison, CT
Lissa Moses, NY
Kristin Pickett, CA
Lynne Pike, VA
Karen Plummer, WI
Tom Reeve, RI
Kerri Ruggieri, RI
Janel Schafer, NJ
Annamaria Skelton, FL
Kathy Smith, FL
Kutina Smith, FL
Randy Stephen, FL
Sarah Stowell, CO
Sheila Walker, NC
Gayle Weaver, FL
We're thrilled to have you in the DEN community!
Already a STAR? Maintain Your STAR Status for 2011-2012!
Make sure you keep your STAR status. We've added a couple other options to help you demonstrate how you actively contribute to the community.There are several ways to stay active:
Report at least two events from this past school year
Report one event and upload a resource to the Educator Resources library on the DEN site
Report one event and tell us one other way you have shared the power of Discovery with your peers (e.g., newsletter, podcast, etc.)
Not yet a STAR? What are you waiting on?
Login using your DE username and password
Click on "Become a STAR Discovery Educator"