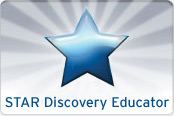 Please welcome these new DEN STARs:

Corinne Altham, ME
Susie Austin, NC
Chris Blakney, New Brunswick
Chris Brillant, New Brunswick
Judith Cagle, FL
Lindsey Carleton, New Brunswick
Travis Carr, New Brunswick
Lois Coile, FL
Namrata Dixit, NY
Shannon Ellison, TN
Paula Erickson, MO
Jennifer Ewing, TN
Nicole Farrell, PA
Patricia Glave, NJ
Ashley Glochick, FL
Chrissy Hansen, New Brunswick
Michael Head, New Brunswick
Kim Kirby, AL
Janelle Kube, VA
Kathy Landman, AL
Lucy LeBlanc, New Brunswick
Christina Manzer, FL
Shannon McDonald, TX
Irene Michaelsen, New Brunswick
Kristen Mossing, FL
Susan Myers, FL
Dawn Neveau, AZ
Stacey O'Connor, FL
Sarah Peck, NY
Brooke Plank, TN
Huguette Poirier, New Brunswick
Brittany Rickett, New Brunswick
Barbara Rix, RI
Sally Smollar, FL
Philip Sweezey, New Brunswick
Dawn Tay, FL
Terri Vernon, VA
LeRoy Vincent, New Brunswick
Carole Wise, SC
We're thrilled to have you in the DEN community!
Already a STAR? Maintain Your STAR Status for 2011-2012!
Make sure you keep your STAR status. We've added a couple other options to help you demonstrate how you actively contribute to the community.There are several ways to stay active:
Report at least two events from this past school year
Report one event and upload a resource to the Educator Resources library on the DEN site
Report one event and tell us one other way you have shared the power of Discovery with your peers (e.g., newsletter, podcast, etc.)
Not yet a STAR? What are you waiting on?
Login using your DE username and password
Click on "Become a STAR Discovery Educator"