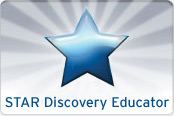 Please welcome these new DEN STARs:

Tracie Best-Harris, NJ
Todd Boender, IA
Meaghan Corcoran, TX
Terra-Lee Gratton, Alberta
Robin Harward, NC
Tracy Huemoeller, AZ
Charlamen Hurtado, AZ
Susan Kirlough, SC
Melissa Landreth, NC
Vicki Morgan, NM
Jill Murphy, TN
Jamie Nodell, CT
Jennifer Orr, AZ
Heather Parris-Fitzpatrick, NY
Kevin Roessner, PA
Stacey Saraj, FL
Katherine Shea, CA
Krissy Thompson, ME
Buffy Vandenboom, AZ
Jan Wells, KS
Catherine Whitehead, TN
We're thrilled to have you in the DEN community!
Already a STAR? Maintain Your STAR Status!
Make sure you keep your STAR status. There are several ways to stay active:
Report at least two events from this past school year
Report one event and upload a resource to the Educator Resources library on the DEN site
Report one event and tell us one other way you have shared the power of Discovery with your peers (e.g., newsletter, podcast, etc.)
Not yet a STAR? What are you waiting on?
Login using your DE username and password
Click on "Become a STAR Discovery Educator"