Discovery's Spring Virtual Conference is an all-day, online, professional development opportunity that goes, literally, around the world for educators to drop in and participate together from wherever they are at the time.  It is just one more way Discovery has met the needs of teachers who long for interaction with others that "get them."
BUT, the speakers highlighted for the Virtual Conference are standing somewhere in the real-world, talking to real people in real time.  And for those of us in Tennessee, that live place is the L&N STEM Academy located in the historic L&N Train Depot at World's Fair Park in downtown Knoxville.  L&N STEM Academy was recently awarded the Apple Distinguished School Award for innovation and leadership in learning.  It is the first school in TN to receive this award.
Lance Rougeux will deliver the opening keynote to those registered attend a "live" day of professional development at the L&N STEM Academy.  This is our second attempt to get Lance to the L&N.  His visit for TechBook Live was snowed out (yes, 3 inches of snow in TN calls for closures).  We are excited that he agreed to come back and be with us for the Spring Virtual Conference!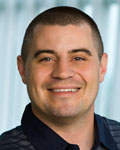 Lance currently serves as Vice President of Learning Communities and Instructional Implementation at Discovery Education where he leads the Discovery Educator Network professional learning community, supports successful implementation of the Discovery Education TECHBOOK, oversees the Discovery Education Wilkes University Instructional Media Program, and plays a vital role in ensuring the success of Discovery Education's STEM initiatives. You can see his complete bio here.
For the event in Knoxville, we are planning an exciting day of learning and discovery!  We have a room set up where the Live Streams of the Virtual Conference will be going throughout the day, including Lance's keynote address at 9:00 AM ET.
In addition, when you sign up for the live event at the L&N STEM Academy, you have the opportunity to volunteer to lead a Teach Meet session of your choice for others attending.  A Teach Meet is a grass roots approach to PD where teachers teach teachers.  Each session will be 20 to 30 minutes long with several options to choose from in each time slot (we hope!).  We will provide the SMART Board, the Apple TV, the wifi, and the room.  You provide your expertise.  Totally informal.  And totally one of the best PD events I've ever attended.
And lunch!  Did I mention the free food?  Yeah, we'll feed you that day as well!
If you would like to attend our event in Knoxville, it is absolutely FREE, and you can sign up here.  The date is Saturday, April 20th! Doors open at 8 AM ET with opening remarks at 8:30 and Lance Live at 9!
NOTE TO KNOX COUNTY TEACHERS: You WILL receive credit for this event.  We will send you instructions about ERO at a later date.  But you MUST register at the above link in order for us to plan for lunch.