DENbrarians have gone Sci-Fi!  The DENbrarian selection for July is The 5th Wave by Rick Yancey.  It is on the higher end of the YA spectrum, but a great modern twist on Science Fiction.  Get ready to be turning pages as fast as you can to keep up with this alien invasion!
The 5th Wave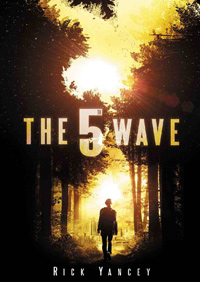 After the 1st wave, only darkness remains. After the 2nd, only the lucky escape. And after the 3rd, only the unlucky survive. After the 4th wave, only one rule applies: trust no one.
Here's the link to the pinboard for The 5th Wave:  http://pinterest.com/discoveryed/denbrarian-july-2013-the-5th-wave/  We'll sign up all of the DENbrarians to be Pinners as soon as possible!
Sign up to be a DENbrarian and you'll be added soon as a "Pinner"!
Discovery's DENbrarians are getting their YA "book on" every month!  Wanna join us?

Welcome to our book club- EVERYONE is invited! You do NOT have to be a Library Media Specialist to join this group– …you just have to love great Young Adult books!  We began in April with The One and Only Ivan, then we read Wonder in May.  June brought The Apothecary, and now July is The 5th Wave. All books selected will be in the upper elementary to middle grades range and our group will soon move to to online connections, Skyped author visits, virtual discussions, resource sharing, a student project showcase, and hangouts starting next Fall.
Click here if you'd like to participate in gathering and sharing resources related to each month's book selection, or  follow our main DENbrarian Pinterest Board which will contain archives of each month's materials.
Questions about the DENbrarian Project? Contact Sandi Dennis– Queen of the DENbrarians
Media and Instructional Technology Specialist- Lead Media Specialist, City Schools of Decatur, Georgia
———————
P.S. If you're looking to spice up your professional library, check here for the DEN Reads group curated by Kelly Hines has some great ideas for your professional library.
Click here for the Social Studies BookDENS project sign up!