By: Jan Abernethy
It all started from an innocent click on an edmodo post. I hope someday to remember it as the click that changed the world!
As an edmodo user, I belong to a variety of different groups including publisher groups and academic groups. One of them is "Computer Technology" (which I highly recommend.) One day I was reading posts, and I saw that a teacher had posted a link to some google websites her students had created. Being a poster of student work myself, I know how important it is for someone to interact with student projects or posts. I clicked on the teacher's link which took me to a padlet of google sites. I randomly chose one of the sites and then one of the posts. What I came to was a post written by a sixth grade girl named Olivia. Her post really moved me. As only a child can do, she summed up a huge problem and a simple solution in just one paragraph.  Below is her post and my reply to Olivia.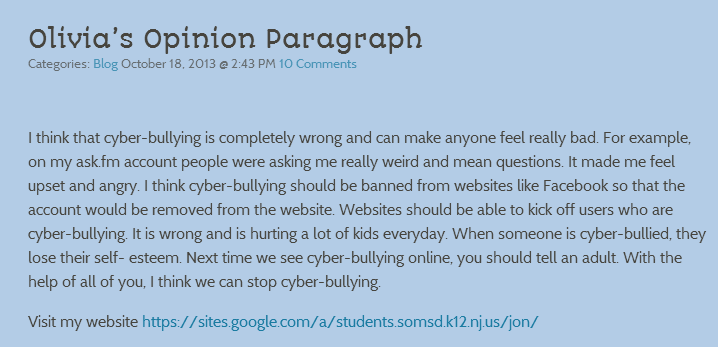 Soon after, Olivia's teacher, Ms. Thompson, contacted me and together we put together an edmodo group for students interested in the project now called: "Spread the Word: Stop Cyberbullying Now." We also created a collaborative wikispace: http://spreadthewordstopcyberbullyingnow.wikispaces.com/. We are in business and we are looking for collaborators!
The obvious goal of our project is to spread the word and stop cyberbullying. Our plan is quite simple. We would like to have students from around the world write letters to social media sites and convince them to post our button on their site. The button will be designed by a student in our "Design a Button" contest which will be hosted on the wikispace. Although most sites have a place you can report abuse, we want our button to be placed prominently on sites.
I could give you a list of Common Core Standards that this project will meet, and I can tell you what part of the Charlotte Danielson model the project addresses. I won't, though, because that's not why I'm doing it. I'm doing it, because it's the right thing to do. I'm doing it, because it could change a child's life. Lastly, I'm doing it, because I want my students and students from around the world to know that THEY CAN MAKE A DIFFERENCE!
We are at the very dawn of this project. Go ahead and jump in! Go to Spread the Word: Stop Cyberbullying Now and join the wikispace. Sign up your students, too.  Together we can make history!