On March 16, I had the opportunity to facilitate a conversation titled "Industry in the Classroom: The Role of Corporations in Workforce Exposure and Experience" at the National Pathways Summit in Washington, D.C. I left energized, and frankly anxious to continue the dialogue about the importance of private and public entities speaking the same language to accomplish action.
Bridging Conversations at the National Pathways Summit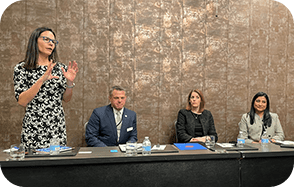 The Summit is hosted by The National Pathways Initiative, an organization focused on promoting high-quality pathways to help advance students seamlessly from K-12 schools through post-secondary education and then to careers and future success. The convening included leaders from education, government, non-profits, and corporations such as U.S. Secretary of Education, Miguel Cardona; Former IBM CEO, Ginni Rommetty; Governor of Connecticut, Ned Lamont; President of Caterpillar Foundation, Asha Varghese; and many more.
Throughout the day, I found myself jotting down thoughts, strategies, and next conversations I'd like to have. This, combined with a cross-sector energy and alignment, inspired me to start a regular note to serve as a convening place around social impact in education. I know this will not be the ultimate solution, but I do think there is power in consistent dialogue to foster movement.
To that end, I wanted to share my top five take-aways from the Summit, and kick off this first of what I hope to be a series of conversation starters:
The tsunami of jobs is coming. Our education system must evolve more quickly if we want to ride this wave.
It is important for us to go to the community level [in impact work]. We have to go beyond ourselves at Caterpillar and ask what the labor market is telling us. How do we then flip that to build a new infrastructure?
We have historically put these systems on families to navigate on their own, but families need everyone to come together [to support student pathways].
There is an incentive dislocation. Incentive in high school is college acceptance. Incentive in college is graduation rates. How do we review incentives to better serve the outcomes we want to see?
The only thing that matters is, can we change the experience of the student to move at the pace of the world?
In a packed day, attendees were nodding heads at the familiar gaps and new solutions between K-12 landscape, the community college system, upskilling programs, nonprofit best practices, and evolving corporate practices. There is openness here like there hasn't been before, and it will remain if we continue to take steps toward one another to serve young people.
Continue the Conversation
This is the first of a series of conversations that I'd like to have with leaders like you whose responsibility is to yield the power of corporations for good. Think of this regular touchpoint as a convening place around social impact in education, where we can reconcile the negative messages about today's education systems and the optimism we feel for the next generation.
If you'd like to continue the conversation on the evolving and increasingly vital role of the private sector in K-12 education,  please sign up for my newsletter and feel free to share with others in your network that would be interested.
Learn more about Social Impact partnerships with Discovery Education!