Featured Partner
We're excited to introduce the NBA and the WNBA as our featured partners for March! This month, students and educators can explore the powerful NBA Game Changers series, the latest addition to our DE Originals collection. This new series showcases NBA and WNBA players who have stepped up and used their voices and platforms to take action about an issue they care about. Game Changers is designed to Inspire student agency and help students learn how to use their own voices to make their communities stronger and the world better. Watch the special Black History Month episode now, and check back mid-March for the Women's History Month installment of this impactful, five-part video series.
Want more? Explore a variety of dynamic, action-packed learning resources in our NBA and WNBA in the Classroom Channel and help students explore the world through the excitement of basketball. Immersive Virtual Field Trips, interactive tools, and one-on-one interviews help students make clear connections to the subjects they're learning. Career videos, game footage and stats, and buzzer-beating content are embedded throughout this premier collection to drive engagement, deepen understanding, and develop future-ready skills.
Celebrate International Day of Happiness on March 20 with Discover Your Happy! LG and Discovery Education have set out to equip young people with the skills necessary to reduce stress and create sustainable happiness in their lives. As part of the LG Experience Happiness movement, Discover Your Happy provides science-based tools for students and educators to show how happiness can be achieved through learnable skills and practices.
Get started with the Discover Your Happy Virtual Field Trip and classroom activity, or choose one of the Digital Lesson Bundles or standards-aligned student activities to find more ways to help them identify actionable ways to bring happiness to their communities.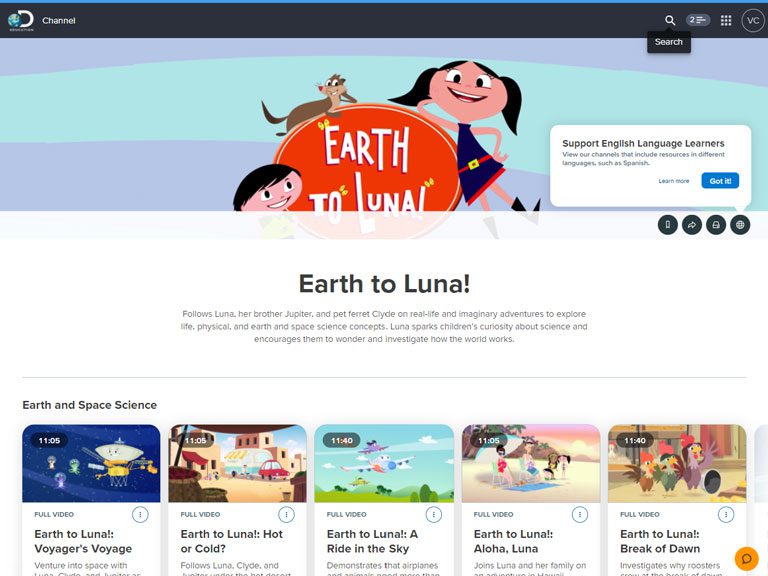 Follow Luna, her brother Jupiter, and their pet ferret Clyde on real-life and imaginary adventures to explore life, physical, and earth and space science concepts. Through this fun, animated series, Luna sparks children's curiosity about science and encourages them to wonder and investigate how the world works.
Check out The Scent of Spring today to welcome the spring season, and see our full collection of episodes in the Earth to Luna! Channel. You can also use the Spanish version of the channel to reach ELL students and native Spanish speakers!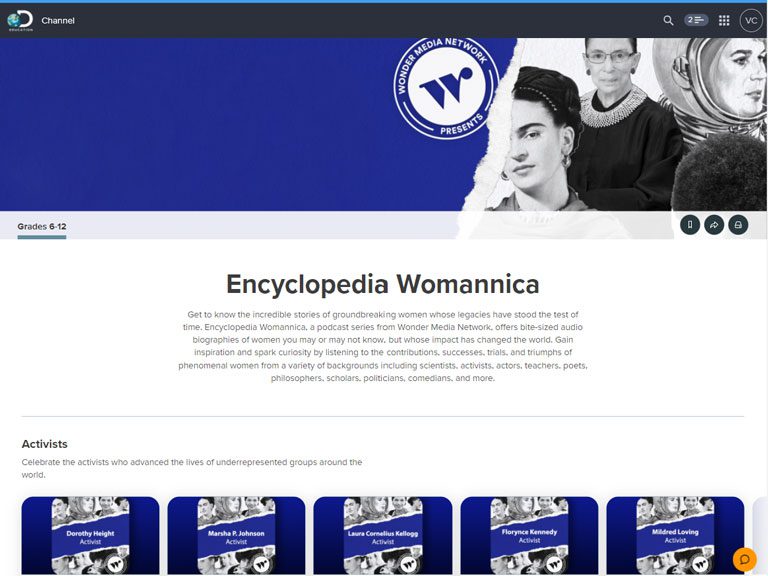 Commemorate Women's History Month with incredible stories of groundbreaking women whose legacies have stood the test of time through Encyclopedia Womannica. New this month, students can hear about musician Sister Rosetta Tharpe, activist Charlotte Forten Grimké, STEMinist Mae Jemison, and even a tenacious former queen of France! Browse the full podcast collection to find more bite-sized, audio biographies of women you may or may not know, but whose impact has changed the world. Gain inspiration and spark curiosity by listening to the contributions, successes, trials, and triumphs of phenomenal women from a variety of backgrounds including scientists, activists, teachers, comedians, and more.
This powerful podcast series is produced by our partners at Wonder Media Network, a women-led company that uses stories to inspire action, promote equality and justice, and introduce empathy into politics, business, and culture. Visit the Encyclopedia Womannica Channel now to dig into the narratives of women who are stepping up to enact change.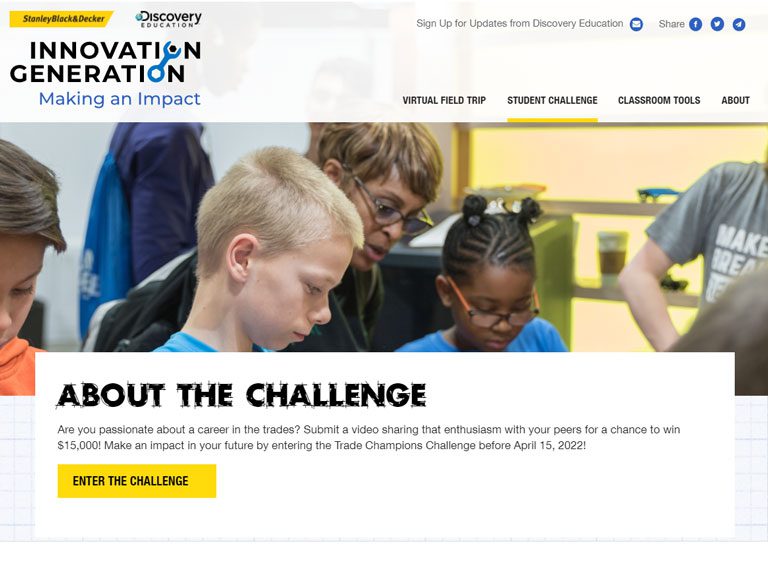 Innovation Generation Trade Champions Challenge
Fuel student passion and creativity with the Innovation Generation Trade Champions Challenge! Encourage high school students to focus on their future by asking them to create a 30-60 second video submission directed at their peers about why they aspire to be a trade professional and/or why they are passionate about the trade career they're currently following. One lucky student will win a $15,000 grand prize and a Stanley Black & Decker Prize Pack!
The deadline for submissions is April 15, 2022.
Innovation Generation knows there's a maker in everyone. Created in partnership with Stanley Black & Decker, Innovation Generation aims to engage and excite students and educators while empowering the makers within.
Find more timely tools and resources with our
This Month at DE: March Studio Board!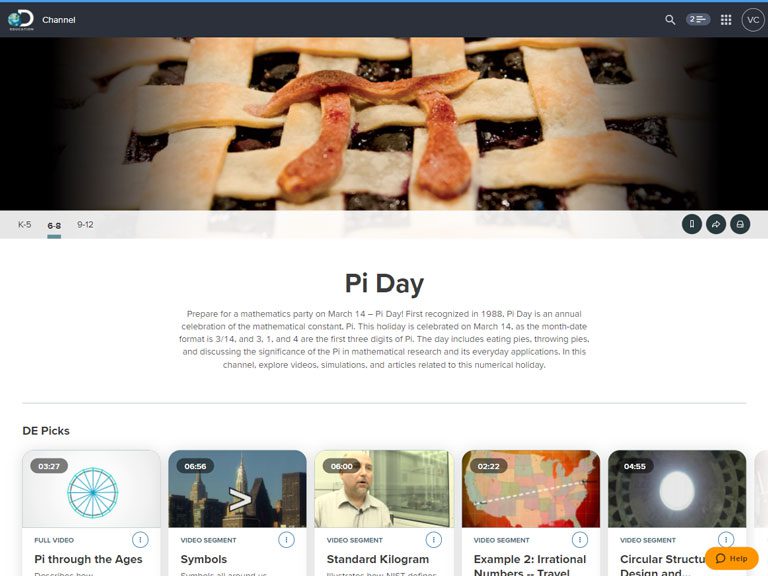 Prepare for a Pi Day party on March 14! First recognized in 1988, Pi Day is an annual celebration of the mathematical constant, Pi. This holiday is celebrated on March 14, as the month-date format is 3/14, and 3, 1, and 4 are the first three digits of Pi. The day includes eating pies, throwing pies, and discussing the significance of the Pi in mathematical research and its everyday applications. Go to our Pi Day Channel for videos, simulations, and articles related to this numerical holiday.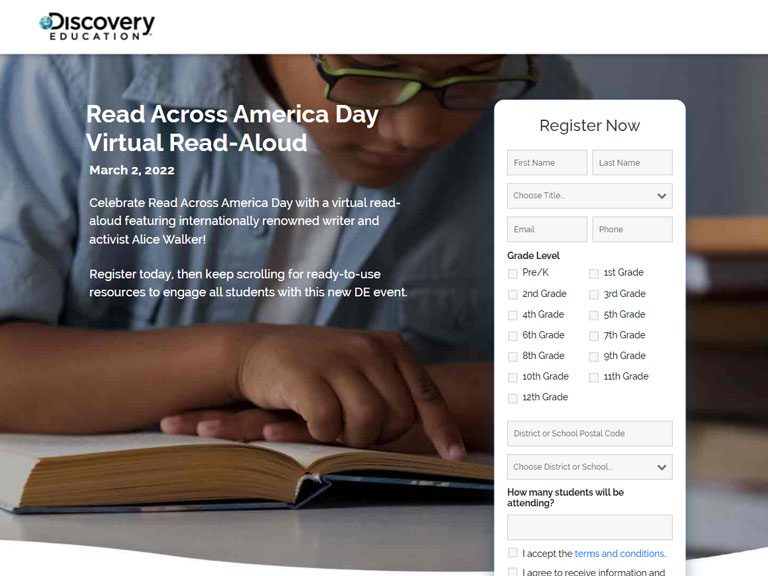 Read Across America Day Virtual Read-Aloud
Celebrate Read Across America Day with a Virtual Read-Aloud featuring internationally renowned writer and activist Alice Walker. Brought to you by Vooks and Tra Publishing, listen to Alice Walker read her powerful new book Sweet People Are Everywhere.
This virtual experience includes Alice Walker reading the book and talking about the book-writing process, as well as illustrator Quim Torres discussing the illustration process—in Spanish! Subtitles will be available to help you engage every student with this exciting event. You can also find a ready-to-use student activity and additional learning resources to build a fun lesson around this annual holiday.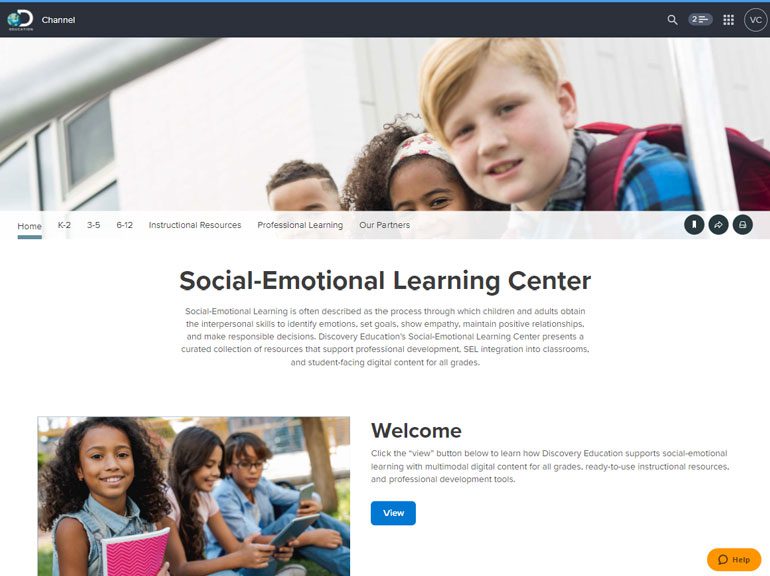 Social-Emotional Learning Center
Explore our Social-Emotional Learning Center to grab learning resources for International SEL Day (March 11)! Social-emotional learning is often described as the process through which children and adults obtain the interpersonal skills to identify emotions, set goals, show empathy, maintain positive relationships, and make responsible decisions. In the SEL Center, you'll find a curated collection of resources that support professional learning, SEL integration into classrooms, and student-facing digital content for all grades.
This collection of content is supported by the generosity of the Social-Emotional Learning Coalition, an exciting partnership between DE, The Allstate Foundation, the National AfterSchool Association, and Ask, Listen, Learn, as well as leaders across the public, private, and philanthropic sectors. The SEL Coalition's goal is to support educators while driving success and innovation in embedding SEL into students' lives. Its first initiative: providing K-12 educators, students, families, and afterschool directors with an extensive library of digital resources to support the integration of SEL into core instruction and beyond.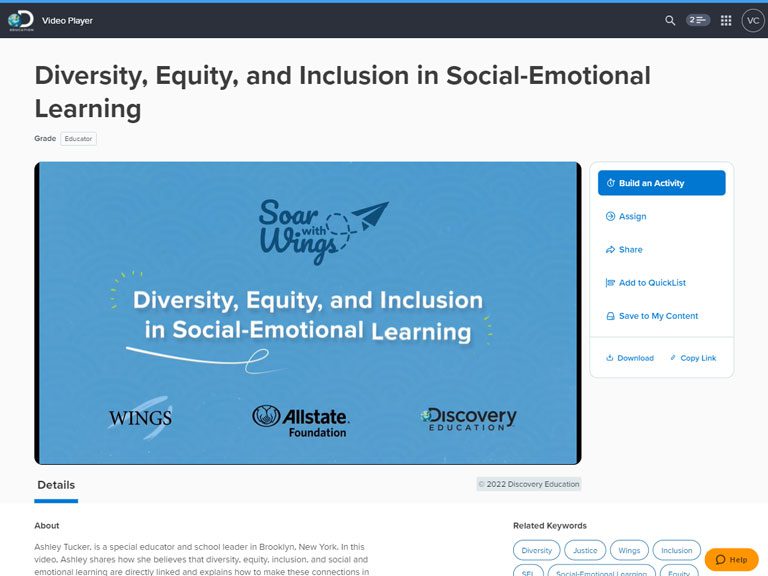 Soar with Wings: Diversity, Equity, & Inclusion in Social-Emotional Learning
Along with the vast amount of content available in the SEL Center, you can also find a new video from Soar with Wings to help increase understanding around the importance of SEL. In Diversity, Equity, and Inclusion in Social-Emotional Learning, educators hear from special educator and school leader Ashley Tucker as she shares how diversity, equity, and SEL are directly linked, and how to make these connections in classrooms on a daily basis.
In partnership with Wings for Kids and Allstate Foundation, Soar with Wings provides standards-aligned digital learning resources that incorporate academics and fun while building key social and emotional skills for students in grades K-5. Soar with Wings also strengthens the skillset of teachers, parents, and caregivers so they can equip students with the support they need to fly high!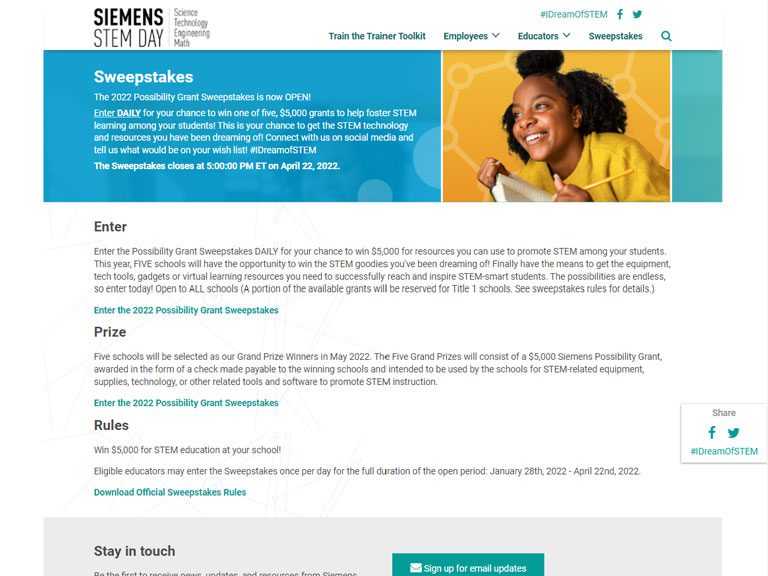 Siemens STEM Day 2022 Possibility Grant Sweepstakes
Enter daily to win one of five, $5,000 grants to help foster STEM learning! With the Siemens Possibility Grant Sweepstakes, schools have the opportunity to obtain the equipment, tech tools, gadgets, or virtual learning resources they need to successfully reach and inspire STEM-smart students. Open to ALL schools, and a portion of the available grants will be reserved for Title 1 schools (See sweepstakes rules for details). Don't miss this opportunity to take STEM learning to another level with your students!
The Siemens Foundation has invested more than $130 million in the US to advance workforce development and education initiatives in science, technology, engineering, and math. Through our partnership with Siemens, we offer a variety of tools and resources to help you reinvent your STEM curriculum and help close the opportunity gap for students when it comes to STEM careers. Together, we aim to inspire continuous learning while igniting and sustaining today's STEM workforce and tomorrow's scientists and engineers.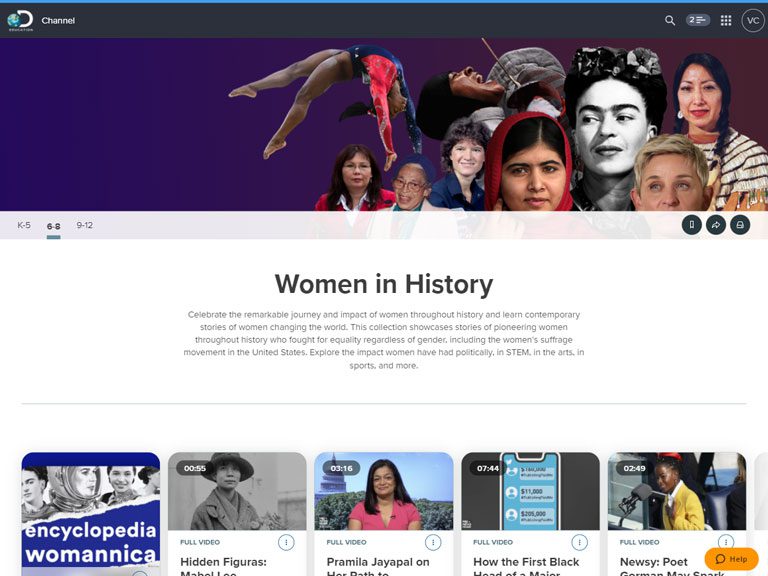 Celebrate the remarkable journey and impact of women throughout history and learn contemporary stories of women changing the world. The Women in History collection showcases stories of pioneering women throughout history who fought for equality regardless of gender, including the women's suffrage movement in the United States. Promote Women's History Month and explore the impact women have had politically, in STEM, in the arts, in sports, and more.
Use this diverse collection of March learning resources to engage students and amplify lessons. Then join us here next month to grab the latest DE content around our April theme: Sky's (NOT) the Limit!