Thanks to numerous events occurring this school year, it's an exciting time for those of us that teach about space and space travel! From solar eclipses to developments in NASA's Artemis programs, this school year offers unique opportunities to spark students' interest in our galaxy.
Discovery Education has a wealth of resources to support educators teaching students about these events, as well as ways to add context to student learning by connecting scientific principles to space content.
Starting Your Space Exploration
For younger students, you can introduce the excitement of space with fun animated segments such as Planet Cosmo and Earth to Luna! There are many ways to make your space lessons fun, exciting, and best of all, relevant! If you aren't sure where to infuse space content into your science lessons, finding space-related events that are coming up and using these events to build context for your students can help the introduction feel meaningful.
One example of upcoming space events you can connect into your lessons are the solar eclipses! An annular solar eclipse will occur on October 14, 2023, and a total solar eclipse on April 8, 2024. You can check out the Great American Eclipse Channel to find resources that cater to different age groups that both describe the natural phenomenon of an eclipse and provide information about how to safely observe them.
The upcoming Artemis missions will also be creating a ton of excitement as the four-astronaut crew was recently named and we are moving closer to the November 2024 launch date! Discovery Education has some terrific resources to share in the Moon Channel on the historic missions to the moon, such as The Apollo Project, as well as information about the moon phases from the DEmystified series, and an overview of the partnership with NASA and SpaceX in The Future of Space Travel.
Creating Relevant, Fun Learning Opportunities
Adding a short, creative project-based learning element to your lessons around these current events can bring some additional engagement and excitement, even for students who may not think they're passionate about space topics. For example, you can incorporate TimePod Adventures to allow students to "visit" another planet's surface or launch and fly a rocket in HOME: Impossible Field Trip, which can bring the space concepts of a lesson to life. The AR Adventure Kit offers fun ideas that pair with the state-of-the-art, life-size augmented reality featured in TimePod Adventures.
Gamification and animation can make any topic fun and offer students a chance to use new technology tools! By using a free tool like Animate with Audio in Adobe Express, students can research a mission, planet, moon, or other phenomena and then create their own cartoon guessing game just using audio. This is always fun because the games can be played outside of the classroom with friends, family, and future students for years to come!
Resources like these are only the start, as there are so many amazing videos, articles, interactives, and more to discover. Even virtual field trips like the Journey to the Extreme: Virtual Field Trip to Mars, which includes an interview with NASA astronauts and program executives about the Curiosity mission and the ultimate goal, a journey to Mars! Start with one space lesson around a current event and create interested students who want to blast off to further exploration!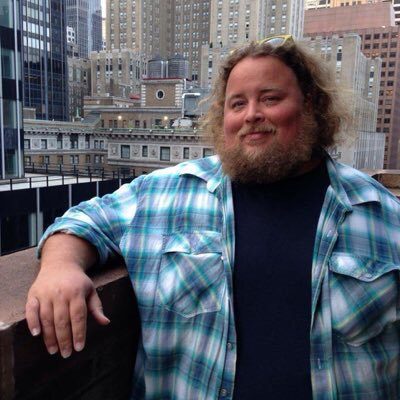 Tim Needles is an artist, educator, performer, and author of STEAM Power: Infusing Art Into Your STEM Curriculum. He is a TEDx Talk speaker, a technology integration specialist, and teaches art, film, and emerging media at Smithtown School District and Five Towns College. 
He's the recipient of ISTE's Technology in Action Award and Creativity Award, NAEA's Eastern Region Art Educator Award & ArtEdTech Outstanding Teaching Award, and The Rauschenberg Power of Art Award. He's also a board member of NYSCATE and NYSATA, a DEN STAR, National Geographic Certified Teacher, Kami Hero, Formative Champion, PBS Digital Innovator, a NASA Solar System Ambassador, an ISTE Community leader, NAEA ArtEdTech interest Group chair, a teacher leader in the CAN Connected Arts Network PLC, and an Adobe Creative Educator Innovator. He's active on social media at @timneedles.
Inspire a new generation of scientists by reading about the career journey of NASA scientists and looking at the latest space content from Discovery Education!