A student's journey from kindergarten through graduation starts with small, but consistent steps. As they take each step, their interests in different topics will spark. And when those interests are nurtured and encouraged, even the smallest steps in career exploration can be a giant leap toward finding the perfect career!
Teachers have a unique opportunity to help students explore their interests and turn them into long-term learning opportunities or even their future careers! The DE team sat down with three NASA scientists about their journey to NASA and what advice they have for students who may be interested in pursuing a career in astronomy or aeronautics.
Jamie Favors
I am the Director of the NASA Space Weather Program at NASA headquarters. As we prepare for more human exploration, I help plan how to protect our explorers from the sun, no matter how far or close they are to the sun during their mission. We work on all the things we have here on Earth that monitor the sun, and work with satellites orbiting Earth to make sure they collect data.
Dr. Kelly Korreck
I am the Program Manager for the Agency for the 2023-2024 solar eclipses at NASA headquarters. In my position, I'm involved with all the different aspects of the eclipse—I work with folks who are building rockets to send up to into the eclipse, and work on citizen science projects, which everyone can do. I also talk about the eclipse to the media and on social media. 
Dr. Alex Lockwood Simpson
I am the Strategic Content Integrator for the Science Engagement and Partnerships Division. I am currently building infrastructure to support engagement for the 2024 solar eclipse across the United States. I am also leading all of NASA's opportunities for in-person engagement, which will involve millions of people of all ages! 
Finding the perfect career isn't always a straight or obvious path—it can be surprising or even inspiring! Read on to hear about how all three scientists became interested in space, how they were encouraged along the way, and why they were inspired to pursue a career with NASA!
Jamie Favors: I was very young when I begged my mom to buy me a book full of beautiful NASA satellite images and pictures of astronauts in the space shuttle. I still have this book at home today! Along the way, I learned that every challenge is a new opportunity. I'm originally from the Gulf Coast of Mississippi, and while I was attending college away from home, Hurricane Katrina happened. The hurricane impacted our homes and our family, so I transferred to a school closer to home. One day as I walked through the physics building, I noticed a pamphlet about internships with the NASA logo. With no real expectation that I actually would get in, I applied. 17 years later, I'm still here at NASA headquarters, doing things well beyond what I ever imagined at that point! As much as I can look back and remember some of the pain brought on by Hurricane Katrina, so much of it led me down this path to NASA.
Dr. Kelly Korreck: A family camping trip actually sparked my interest in space! I was about 8 years old when we went, and that's when I saw the Milky Way for the first time. I left that trip wanting to learn more, and after that, I spent a lot of time in our local library reading every astronomy book I could find. Many different people encouraged me—my grandmother was very supportive and I also had great teachers. Specifically, I remember my 5th grade teacher, Mrs. Haley. I was in her class around the time of Haley's Comet, and she made science relatable for us with fun experiments. The rest of my journey looks like a straight line: I got my degrees from the University of Michigan and I got a post-doc, a time after your doctorate degree where you study more before moving on as a research scientist. All of that was me finding my way! I kept asking myself, "What is the coolest thing that I want to do? Build a rocket? Go to Japan to work on an X-ray telescope?" I just kept following the next interesting project until I found the Parker Solar Probe, the probe that is going to be closest to the sun!
"Many different teachers encouraged me or told me, "You can do this!" and, "You can have this as a career!" It really took a lot of people to encourage me to be a NASA scientist" - Dr. Kelly Korreck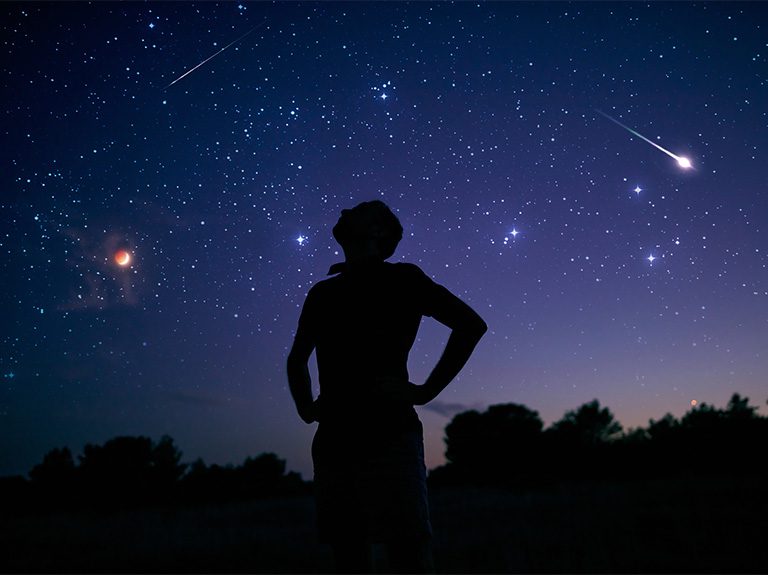 Dr. Alex Lockwood: My interest in space started in high school. I had always looked up at the sky, but I never thought that it was something I could study! In high school, I took an astronomy class where we mapped the constellations on the ceiling of our classroom. I began to wonder how I could continue my interest in space and found that there were jobs studying space. I went to college to study physics and astronomy, then I got my PhD in planetary sciences. I left research and wanted to pursue communications and engagement and outreach because I wanted to contribute to sharing aspiration and science with other people. I took a job in the Middle East to gain some communications experience, and then I came back to the US and started working on NASA's Joint Polar Satellite System before switching to the James Webb Space Telescope. From there, an opportunity to support NASA science more broadly came up, and that led me to my current position!
Ready to help your students get curious about space? Check out the latest space resources from Discovery Education!
Advice for Aspiring Astronomers
If students have set their sights on the stars, their goals can feel very far off from the four walls of your classroom! The NASA scientists each have advice for students interested in pursuing a career in astronomy or have big career aspirations.
Jamie Favors: Be ready to learn! The best surprise that has come from working with NASA is all of the continual learning. You interact with people you never thought you would, working on things you never even knew about. There are often interesting lunch talks about different studies, like the "twin study." A NASA research team shared how they studied a set of twins. One twin was an astronaut who lived on the space station for a year while his twin brother stayed here on Earth, and the study measured them for that year to see how they changed. Here at NASA you're always so close to things that are really captivating!
Dr. Kelly Korreck: Follow your passions! There are so many ways to be a NASA scientist! You can even be a NASA scientist right now by participating in a citizen science project. You can find these projects online, which give the opportunity to do science related to NASA. When working toward a big goal like working at NASA, stay consistent about your passions, because if you're not passionate about it, it's not going to shine through!
Dr. Alex Lockwood: Work hard! I didn't think that I had what it took, but there are many  opportunities in NASA that aren't just being a scientist. Having a science background at any level helps! Whether that's high school physics, a bachelor's degree in astronomy, master's, or PhD, any amount of science that you know will help you succeed in NASA. If you work hard and you're doing something that you love, you'll find a place to succeed and a way to get there. It's not always going to be the path that you thought it was going to be, and that's OK!
The school year is packed with exciting opportunities to help students research new career paths or harness students' interest into further learning. Encourage your students to think about what topics they find interesting and help them leap forward to a future career goal!
Inspire the next generation of NASA scientists with ideas from DEN STAR Tim Needles about spark students' interest in space!